Chinese (Simplified) Chinese (Traditional)
Dear Friends,
The Eugene Chinese Christian Church was established in the fall of 1980. For more than 30 years, we continued to serve the needs of Chinese families and students from all over the world. We also value the relationships that we have built.
On behalf of our church, I cordially invite you to join our worship service as well as other activities. We sincerely hope that our church can be like a family to you in Eugene.
May God bless you!
Donald Grafton, Pastor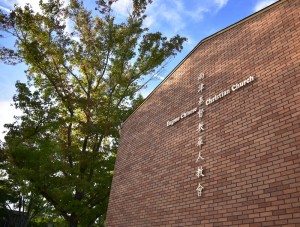 ---
Announcement
The school cleaning will take place at Spencer Butte Middle School August 26 from 9 AM to 1 PM. We will be helping the school get ready for students in the fall. On August 27 at 4pm-7pm, we will have the Children's Fair. The Children's Fair is where the students in need can come and get a backpack full of school supplies, a pair of shoes, and a lunch all for free. Our main role will be to pick up trash and keep the grounds clean so that the students can come to a clean and Christian environment. Please register with Donald.
Church Picnic is taking place on 8/19 at Lloyd Knox Park. Please save the date and invite your friends from the community to join.
INSTE Bible College is offering on-line Discipleship class in both Chinese and English. Content include: devotional habits, personal Bible studies, the function of prayer in the life of a disciple, how to effectively witness, plus biblical attitudes toward others and oneself. Those interested pls ask Pastor Ricky for detail (rpoon01@gmail.com)
Those who are interested in going to Albany to watch the Super Eclipse please register with John or Sarah.
通知
歡迎弟兄姐妹加入「同一盼望」事工行列,8/26 9am—1pm在 Spencer Butte 初中幫忙美化校園。8/27 4pm-7pm是孩子的園遊會,清貧家庭的孩子可以收到裝滿學校用品的背包,一雙鞋子和免費的午餐。我們教會分配到的責任是清潔飯廳,維持環境整潔。請向葛當勞弟兄報名。
8/19 在 Lloyd Knox舉行年度野餐,歡迎弟兄姐妹邀請朋友參加。報名請聯絡王邦慧姐妹(teresa.bwyue@gmail.com) 或者張韌姐妹 (jennyprayers@gmail.com)。或直接在佈告欄上填寫名字。願意參與帶菜的人請在禮拜天註明菜與分量。
INSTE 聖經學院提供網上門徒訓練課程,可選擇中文或英文授課。內容包括個人靈修習慣的養成,禱告的功用,做見證的技巧,做耶穌門徒的基本特質,態度和知識。兩學分,$90. 8/24 開課,詳情請恰潘禮彬牧師 rpoon01@gmail.com
想一起去 Salem 看全日蝕的弟兄姐妹請跟黃志強弟兄報名 happyjohn2000@gmail.com